Available parts for MAN B&W S-,L-, and G 50MC types
Since the introduction till today the MAN B&W S50MC is an engine that is designed on principles and aims for simplicity and reliability. The mid-bore range was widened in 1996 as well in the 600 and 700 mm models. The types named S50MC-C and the additional letter C stands for Compact. Damen Schelde Marine has more then 140 years knowledge in producing main engines and in 1980 it has expanded to production and supply in engine parts. Where first it was only Sulzer, later the MAN B&W engine types and specific the S50MC and S50MC-C types Damen Schelde Parts have proven to be a reliable partner.
Stock parts for MAN B&W two stroke types
As of today we keep many consumables and other wear and tear parts in stock. In our warehouse in the Netherlands. We have registered around 10.000 unique parts that we can offer within 24 hours from our offices in Flushing and Singapore.
Quality parts
As Damen Schelde Parts has accumulated so many knowledge for marine diesel engines we know where to pay attention to if we talk about quality. In most cases we intend to supply an original equipment manufacturers quality or a suitable equivalent if quality and price meets the same standard or better. As we are ISO certified we follow a strict quality procedure that allows us to meet a high quality standard. All parts are checked according makers drawings and where necessary drawings and executions are verified with relevant parties.
Advise
Since many years we have adopted the MAN B&W two stroke engines in our scope. In all those years we have specialized knowledge for the 500 mm and 600 bore types. Inquire our MAN B&W two stroke specialist with all your questions. Our sales department is happy to assist and advise you with your questions regarding engine parts.
Fuel switch for MAN B&W two stroke engines
As the sulphur cap 2020 is coming closer we advise for MAN B&W two stroke engine types piston rings with special coating. When operating on fuel containing sulphur, the sulphuric acid that is formed during the combustion process will condens on the surface of the liner. That will cause a contolled amount of corrosion and that will create on it's turn a level of wear and that causes a high number of open graphite lamellas in the cast iron matrix.
When operation on low-sulphur fuel, the level of corrosion is very low and the liner wear is very minimal in most cases. Over time it will lead to polishing of the running surface. As the surface will become so smooth the open graphite lamellas are closed and make it hard to sustain a proper oil film.
When the oil layer(film) is compromised, the piston rings that are in contat with the liner may generate high friction due to metal-to-metal contact. This will lead to liner scuffing.
Cermet-coated piston rings
Cermet is compositie material composed of ceramic and metal materials. Cermet is ideally designed to have the optimal properties of both ceramic, such as high temperature resistante and hardness, and those of metal. The margin towards scuffin increases. The cermet will recover after an incident. (The cylinder liner may need machining at the next overhaul to ensure correct running-in of the updated rings).
Find, inquire and buy
Damen Schelde Parts is a trusted partner for MAN B&W engines for two and four stroke types. As former engine manufacturer and still active in producing and supplying parts we understand what matters for the customer and their most important asset: The engine. Our system is organized in a way to verify with the vessel what execution is required and we know what to ask when offering the correct execution.
Once we have such info we lock items to the vessel and when the vessel is sold to a new owner we can assist faster with the correct execution, work more accurate and we never have to ask the same question again.
We offer a large database of parts for MAN B&W engine types from our warehouses in the Netherlands, Singapore and China.
To complete our delivery programm and services we have listed overhaul packages and can work on exchange base for items or just recondition engine parts when needed.
Find parts for MAN B&W S-,L- and G- 50MC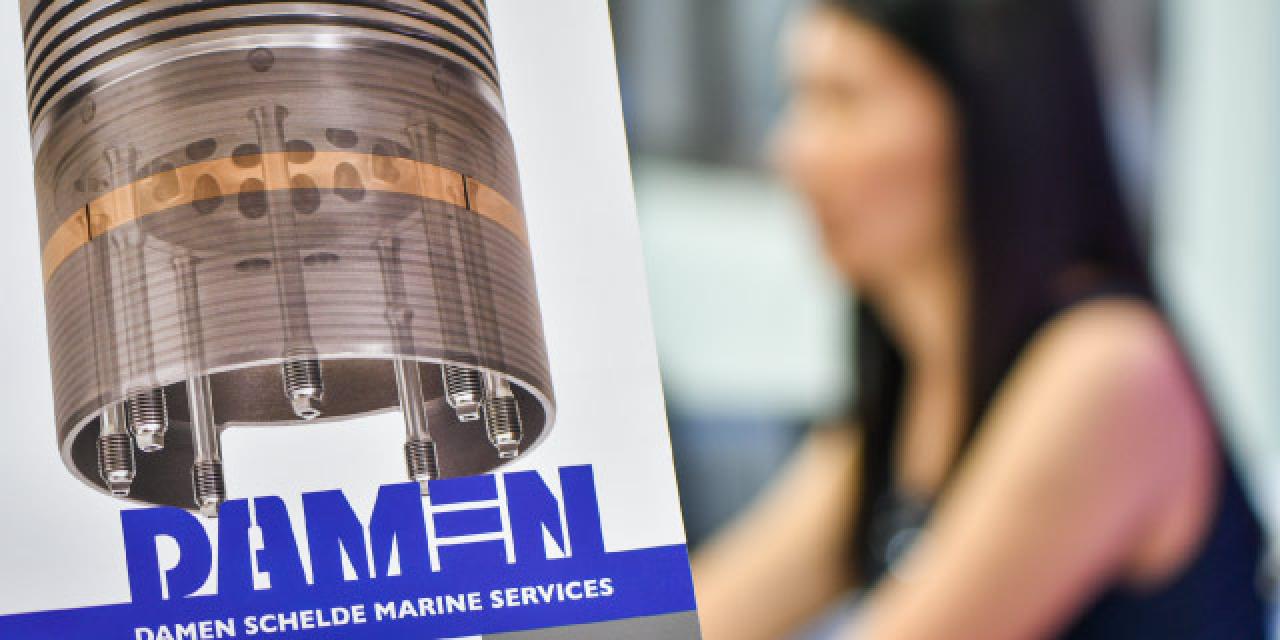 Receive an answer within 12 hours
High quality parts and services you can rely on
We help you with the right execution
We can import your whole fleet with relevant engines
We give support on your procurement system
Specialists in engine parts with 140 years of experience
More than 250.000 parts available
European and Asia region offices
Contact us by email, chat with us or via whatsapp