Damen Schelde Parts reconditioning was founded in 2005 with the strategy to fulfill the need of European owner and managers for marine diesel reconditioning in China. With our long European experience in the field of reconditioning and manufacturing, Damen Schelde Parts is giving high service against competitive prices.
Feel free to inquire us for reconditioning services for your marine diesel engine. We are experts in main and auxiliary engines for our scope of supply. Besides reconditioning we can also offer exhange base parts. We give you a price for your used part and supply you a new replacement part in return.
Damen Schelde Marine Services prices itself on being an independent company ensuring the flexibility to offer parts and services for all marine diesel engine parts and turbochargers.
Our expert engineering staff are all trained to OEM standards and all our work is covered by a comprehensive 12-month warranty, making the company a cost effective and reliable alternative to the OEM. Damen has sophisticated purpose-built workshops in the Netherlands and Shanghai, Sales offices in the Netherlands, Singapore and strategic international partners in Germany, Greece, Italy, USA, Turkey, India, Hong Kong and Spain.
Piston crowns and exhaust valve spindle and seats
Before piston crowns are welded, the complete ring groove section, the outside diameter and the entire top of the crown will be removed. Also the inner sealing faces will be pre-machined. Piston crowns are heat treated in our oven to release welding stresses. Machining takes place on CNC controlled turning machines which can automatically machine the parabolic crown top. Machining of the ring grooves is programmed to ensure the ring groove heights according to the engine builders' specification. The ring grooves are double chromium plated.
Spindles and seats made of the following materials can be reconditioned:
AISI307 (St.St) in combination with stelite
Nimonic 80A
First the spindles and seats are analysed to know what kind of base materials are used. This will determine the welding procedure.
All burned and worn layers are machined off and rewelded on automatic welding machines. Final machining takes place on horizontal CNC controlled turning tables to meet the original tolerances specified by the engine builders.
After machining a full measurement report is made, also the seating are/bottom side fillet to stem is dye checked.
Machinery
The machinery in our workshop is the most modern machinery, the machinery is CNC controlled. This guarantees that all machined parts are being machined in according the engine builders specifications. Which will result that reconditioned parts can last just as long (or even longer) as a new part.
The CNC controlled boring tables, can machine parts up to 3x2 mtr. with a maximum weight of 20.000 kg. They are able to machine pockets and bores in alle necesarry angles and within the tight tolerances subscribed by the engine builders.
The CNC controlled vertical turning machines are able to process piston crowns and cylinder covers.
Cylinder covers
Cylinder covers of the latest design like MC and RT are reconditioned by machining and rewelding. The complete combustion bowl will be machined out to 3-4 mm above the cooling bores. This guarantees that all cracks are machined out and the combustion bowl is rewelded to the original dimensions.
As the landing faces are pre-machined and welded to bring the cover back to their original new building dimensions. After welding the cover are heat treated in our own oven. They will be heated up to 650 °C and be kept on this temperature for 4 hrs, then slowly cooled down.
After the heat treatment, te convers are placed on the horizontal boring machine, to re-drill all cooling bores and pockets.
When the cooling bores and pockets are drilled inconel 625 layers are welded around the fuel tip holes to protect this area against the fuel spray.
Combustions face, landing faces and o-ring grooves are machined on the vertical CNC turning table to the original dimensions as specified by the engine builder drawings.
Finally the covers are pressure tested for class an painted to protect them against corrosion.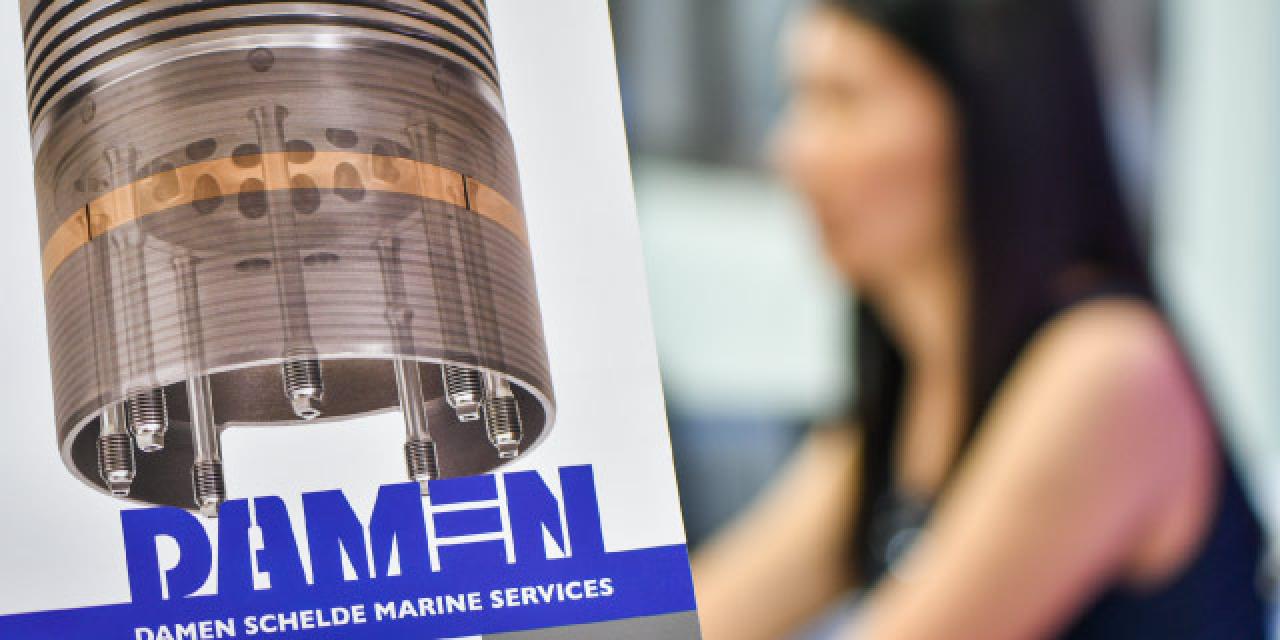 Receive an answer within 12 hours
High quality parts and services you can rely on
We help you with the right execution
We can import your whole fleet with relevant engines
We give support on your procurement system
Specialists in engine parts with 140 years of experience
More than 250.000 parts available
European and Asia region offices
Contact us by email, chat with us or via whatsapp