A continuously increasing scope of wear and tear parts for the auxiliary engines are available from stock. With our in-house knowledge, quality control and almonst 100% coverage of all wear and tear parts we can guarantee a high service level. Combined with our in-house fowarding department, urgent deliveries can be arranged immediately.
Available parts for MAN B&W 28/32 (H)
At Damen Schelde Parts we are specialized in main and auxiliary marine diesel engines within a specific scope of supply. The four stroke MAN B&W 28/32 (H) auxiliary engine is a type we support and can advise and assist you with all wear and tear parts that are present in this engine. As we started building engines 140 years ago we have gained a wealth of knowledge about engine parts and items that are necessary for running a marine diesel engine. The program contains most wear and tear parts that you will find in a MAN B&W 28/32 (H) engine. We supply and give support for most common replaced parts from stock or within a short timeframe. You can think of parts such as: Cylinder heads, rotocaps, valve spindles and rocker arms, safety valves and indicator valves, pistons and connecting rods, cylinder liner and water guide jackets, fuel injection pump (L'orange, NICO) fuel injection pipes, lubrication oil pump and filters, fuel equipment such as nozzles and plunger and barrels. We tell you more about our quality and warranty.
Quality parts MAN B&W 28/32 (H)
As Damen Schelde Parts has accumulated so many knowledge for marine diesel engines we know where to pay attention to if we talk about quality. In most cases we intend to supply an original equipment manufacturers quality or a suitable equivalent if quality and price meets the same standard or better. As we are ISO certified we follow a strict quality procedure that allows us to meet a high quality standard. All parts are checked according makers drawings and where necessary drawings and executions are verified with relevant parties.
Advice for MAN B&W 28/32 (H)
We can imagine you are not aware of all replaceable parts you may need for your MAN B&W 28/32 (H) engine. To keep your engine running you are obliged to overhaul your diesel engine with specific running times such as 8.000 and 16.000 running hours. As specialist for MAN B&W 28/32 (H) types we can help you with a complete package of parts to arrange an overhaul or we can recondition specific parts within a short time frame. You can choose what parts or services you need from us and if you arrange the labor on a reconditioning job yourself with a services partner.
Fuel switch for MAN B&W 28/32 (H)
With the coming fuel switch in sight it is good to think about replacing parts that are related to the new fuels. According makers specification we offer parts according the latest executions. In this case you can think of fuel equipment with carbon coating for example.
Why buy MAN B&W 28/32 (H)parts at Damen Schelde Parts
More than 4000 parts for MAN B&W 28/32 (H)
High quality parts with inhouse quality control
ISO certified according 9001:2015
Trained personnel and dedicated MAN B&W four stroke specialist
Supplied with certificate for applicable parts
Dedicated forwarding department
Your whole fleet in one database
Access to relevant drawings and sketches
Complete package of parts and services
Find, request and buy parts for MAN B&W 28/32 (H)
To find a reliable partner for your marine diesel engine that can advise and propose suitable parts can be challenging. Damen Schelde Parts we wants to unburden the client by offering a complete package of parts, overhaul sets and additional services such as reconditioning and exchange based parts. All parts and services focused on the Damen quality level and you can expect a proper level of expertise with trained personnel, fast replies and a complete database
Shop
Products Daihatsu DE18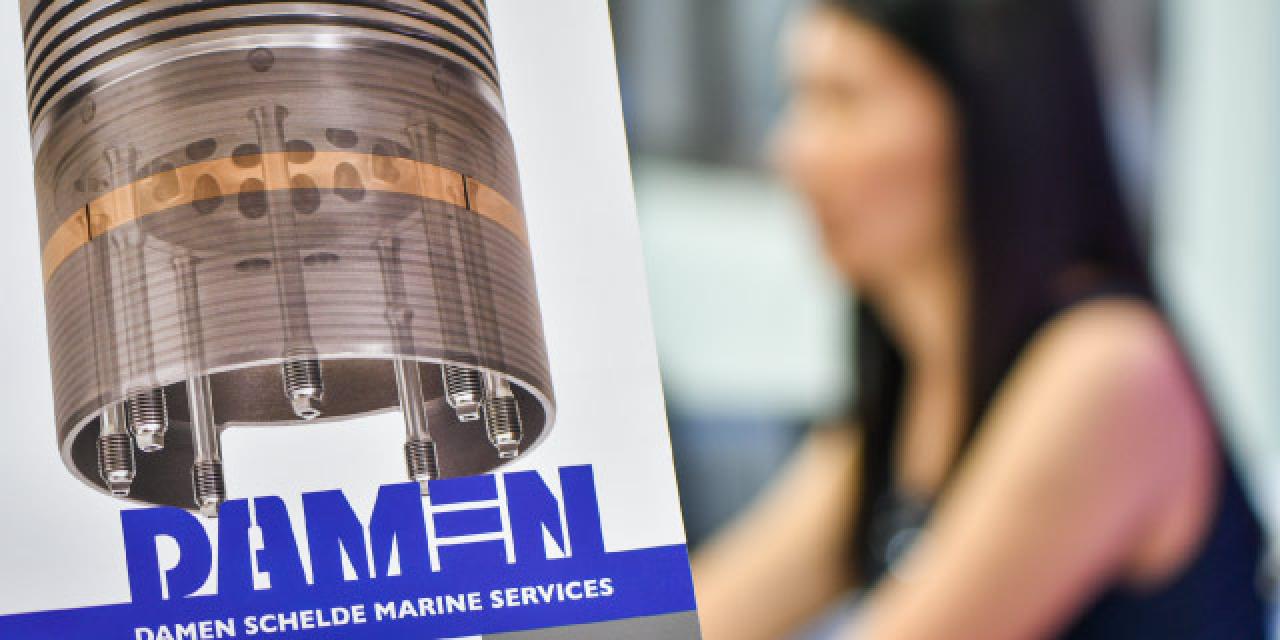 Receive an answer within 12 hours
High quality parts and services you can rely on
We help you with the right execution
We can import your whole fleet with relevant engines
We give support on your procurement system
Specialists in engine parts with 140 years of experience
More than 250.000 parts available
European and Asia region offices
Contact us by email, chat with us or via whatsapp